---
Workshop and Paper Proposals are now closed. Notifications of acceptance will go out to presenters by July 1st. We received a record number of proposals this year and are excited to put together an enriching and diverse program.
The 2023 Conference Theme is:
"Sacred Hospitality: The Healing Encounter"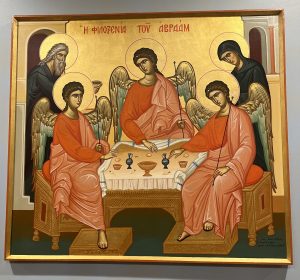 At the heart of what we do as Orthodox care providers is participate in God's hospitality. Within our professional roles, at the heart of our care providing, is hospitality: accepting God's invitation to participate in sharing with people God's healing power, regardless of what they look like, what they think or believe or how they behave. The Icon of the Hospitality of Abraham reveals the presence of the Holy Trinity in this encounter, who extends God's love, joy, peace, and healing to both providers and the ones whom they serve.
What is the relationship between care provider, care recipient, and God in the healing encounter? What roles do provider, recipient, and God play in this encounter? In what ways do provider, recipient, and God influence one another and the nature of the encounter? Finally, in what ways do these encounters represent sacred hospitality? These are examples of the questions we will explore at this year's OCAMPR Annual Conference.
OCAMPR requests that proposals for presentations reflect professional, academic discussion on critical issues regarding the helping professions and pastoral care, specifically as it relates to our Orthodox Christian faith. Although presentations reflecting the Conference theme are encouraged, other subjects related to the overall mission of OCAMPR are welcomed.
Proposals are due May 31, 2023 and will be reviewed by members of the OCAMPR board and conference committee. Presenters will be notified by email if their proposal is accepted, accepted with revision or not accepted. Please see the specific instructions below for conference papers and workshops. Address any questions to ocamprconference@gmail.com. We look forward to receiving your submissions!
Questions? Contact us at ocamprconference@gmail.com
FAQs
QUESTION: Will my presentation be broadcast live or recorded?

ANSWER: Most presentations will be recorded or livestreamed.
QUESTION: What happens to the recording of my presentation?

ANSWER: All recordings will be made available online after the conference free to the general public.
QUESTION: Does OCAMPR cover my travel expenses?

ANSWER: No. Presenters are responsible for their own travel and lodging.
---