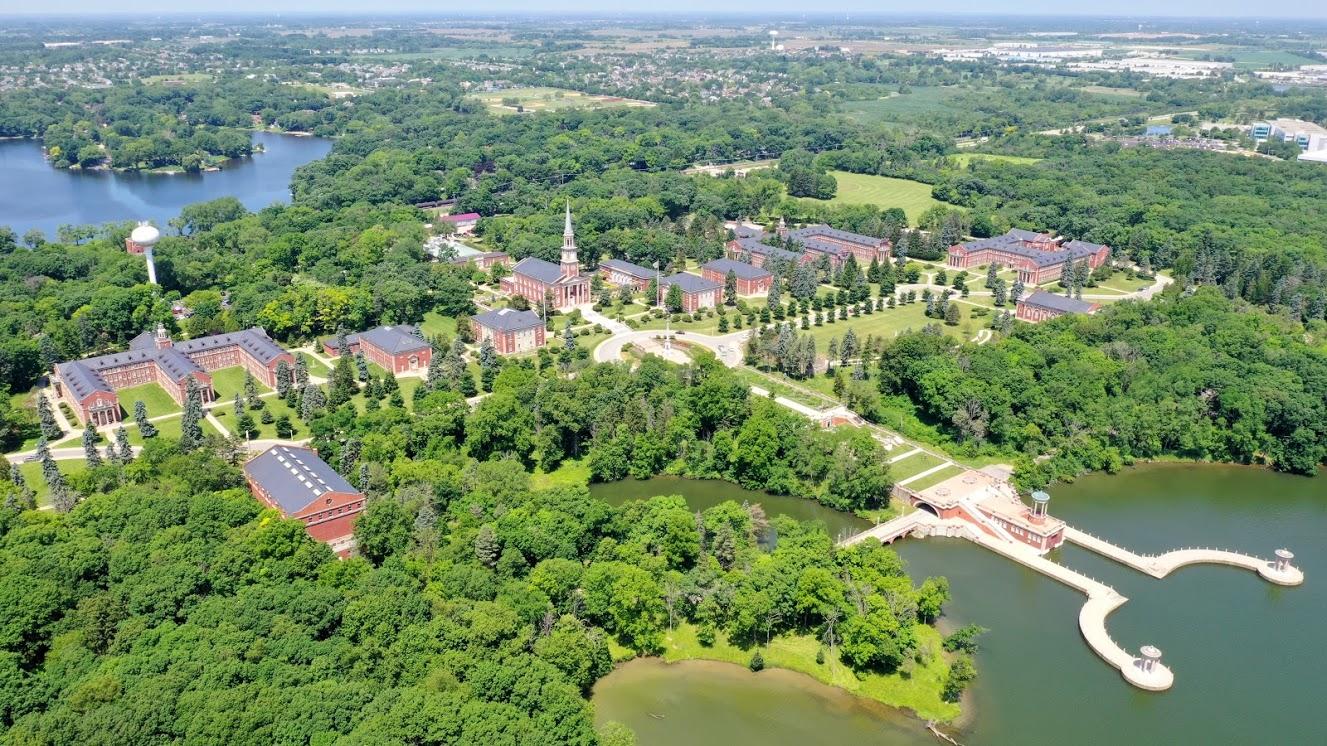 Travel to USML
The conference begins with dinner on Thursday at 6:15 pm in the dining hall. If you are staying in the USML lodge, plan to arrive at the conference center to check in to the lodge between 4-6 pm. Lodge Registration desk is open until 10pm. If you plan on arriving later than 10pm, please call 847-970-4815 (Public Safety) when you arrive, so they can let you in the locked front door.
The conference ends after Vespers with the Blessing of Hands, taking place from 5:30-6:30 pm. Checkout from the conference center lodge is 9 am, but you may store your luggage in the conference center living room until your departure from USML.
The University of St. Mary of the Lake is located at 1000 E. Maple Avenue in the town of Mundelein, IL approximately four miles west of Interstate 94. The closest airport is O'Hare International Airport (ORD), which is about 28 miles south of USML. Milwaukee's General Mitchell Airport (MKE) is about 50 miles north, but is a much better alternative to O'Hare than Chicago's secondary airport– Midway Airport (MDW). Note we do not recommend that you fly into Midway, as it can be as long as two hours away in traffic.
Pre-arranged car service or taxi options from Airport:
*Note you must call ahead or use the app to arrange pick up in order to get the flat rate from the airport. It is not advisable to simply step out of the airport and into a cab, as your rates will be higher:
American Taxi: 847-255-9600
North Shore Limousine Service: 847-815-4900
M and M Limo 847-257-2111
Uber
Lyft
The main entrance off Route 176 is closed. Please enter campus from Route 45 (Lake Street). This entrance is just north of the Route 176/Route 45 intersection. In your GPS, enter "Route 45 and Dunbar/University Mundelein, IL" for directions to this entrance. Once on campus, please follow the signs or the direction of our Public Safety officers to the Purple Parking lot (see map attached).
If you are heading North on Interstate 94:
To reach the seminary from Interstate 94, take the Hwy 176 exit and turn right at the foot of the ramp to head west (the ramp loops around). Continue on 176 to Route 45 and the entrance will be on your right at Dunbar/University street.
If you are heading South on Interstate 94:
To reach the seminary from Interstate 94, take the Exit 10 for IL-21/Milwaukee Ave. Turn right on to Casey Rd and continue to U.S. Route 45. Turn left and continue on Route 45 until you reach the entrance at Dunbar/University street.